Welcome to Florida's 16th Judicial Circuit Court News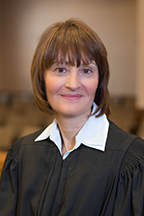 CONGRATULATIONS!
2022 Chief Justice's Distinguished Service Award Recipient
Chief Judge Bonnie J. Helms
KEY WEST, FL— The 16th Judicial Circuit is pleased to announce that Chief Judge Bonnie J. Helms is the recipient of the 2022 Chief Justice's Distinguished Judicial Service Award. This award is presented annually to one judge in the State of Florida to honor and recognize outstanding service as it relates to the support of pro bono legal services. The award will be presented by Chief Justice Charles Canady at a ceremony at the Supreme Court of Florida in Tallahassee on January 20, 2022.
Judge Helms was elected to the Sixteenth Judicial Circuit Court bench in 2014 and ran without opposition in 2020. She currently sits in the Family and Civil Divisions in Key West and beginning January 1, 2022, she will be assigned to the Family Division in Marathon. She was recently elected by her colleagues as Chief Judge for a two-year term which began July 1, 2021. Judge Helms is also the current chair of the Sixteenth Judicial Circuit's Pro Bono Committee, which educates local attorneys on the need to provide pro bono services and promotes to the public the benefits of pro bono services that local attorneys and Legal Services of the Florida Keys provide through clinics and individual representation.
The Distinguished Judicial Service award is presented at the annual Pro Bono Award Ceremony in Tallahassee, in which the Florida Supreme Court and the Florida Bar also honor and recognize individual, circuit, Voluntary Bar, Law Firm, Young Lawyers Division and Distinguished Federal Judicial Service recipients for their efforts in ensuring access to justice for those who could otherwise not afford it.
CONGRATULATIONS!
2021 Employee of the 4th Quarter - Marti Roy
Congratulations to Marti Roy, Network Administrator, our employee of the 4th quarter! As an integral part of the court technology team, Marti's dedication and customer service is immeasurable. Marti has been instrumental in the success and progress of the Plantation Key Courthouse project. She has worked tirelessly coordinating with vendors, construction crews and other government entities to ensure that the implementation of new courtroom technology and infrastructure is on pace with the overall project timeline. Marti plays a significant role in the Information Technology department and The 16th Judicial Circuit. She is always engaged and readily accepts challenges as they arise. Marti often works in the late evenings and on the weekends to ensure the technology that supports The 16th Circuit's operations is available and secure. Her nomination recognizes the many years of technical experience, institutional knowledge and work ethic she possesses. Thank you, Marti, the 16th Judicial Circuit greatly appreciates your dedicated service!