Welcome to Florida's 16th Judicial Circuit Court News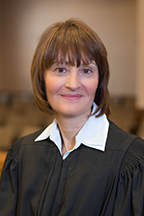 CONGRATULATIONS!
2022 Chief Justice's Distinguished Service Award Recipient
Chief Judge Bonnie J. Helms
KEY WEST, FL— The 16th Judicial Circuit is pleased to announce that Chief Judge Bonnie J. Helms is the recipient of the 2022 Chief Justice's Distinguished Judicial Service Award. This award is presented annually to one judge in the State of Florida to honor and recognize outstanding service as it relates to the support of pro bono legal services. The award will be presented by Chief Justice Charles Canady at a ceremony at the Supreme Court of Florida in Tallahassee on January 20, 2022.
Judge Helms was elected to the Sixteenth Judicial Circuit Court bench in 2014 and ran without opposition in 2020. She currently sits in the Family and Civil Divisions in Key West and beginning January 1, 2022, she will be assigned to the Family Division in Marathon. She was recently elected by her colleagues as Chief Judge for a two-year term which began July 1, 2021. Judge Helms is also the current chair of the Sixteenth Judicial Circuit's Pro Bono Committee, which educates local attorneys on the need to provide pro bono services and promotes to the public the benefits of pro bono services that local attorneys and Legal Services of the Florida Keys provide through clinics and individual representation.
The Distinguished Judicial Service award is presented at the annual Pro Bono Award Ceremony in Tallahassee, in which the Florida Supreme Court and the Florida Bar also honor and recognize individual, circuit, Voluntary Bar, Law Firm, Young Lawyers Division and Distinguished Federal Judicial Service recipients for their efforts in ensuring access to justice for those who could otherwise not afford it.
CONGRATULATIONS!
2021 Employee of the 2nd Quarter-Kirsten Walsh
Congratulations to Kirsten Walsh, the Circuit's Senior Attorney, our employee of the quarter! Kirsten has the great responsibility of legal research and writing on behalf of the four Circuit Judges. In addition, she serves court administration as general counsel, as a grievance committee member, and diversity committee team member. She is the supervisor to a staff attorney position that has remained vacant for over a year. Yet, Kirsten keeps her cheerful outlook, meets deadlines, and is still readily available while completing her greater workload. She has also served the Circuit in presenting Diversity Training to new employees. Outside of work, Kirsten raises a 3 year-old, mentors for Take Stock in Children and maintains her continuing legal education in two states. Her nominations recognize her exemplary work ethic and professionalism. Thank you, Kirsten, the 16th Circuit greatly appreciates your dedicated service!